It's that time of year again! If you are here via Sew Mama Sew, welcome! If you are a regular reader then here's a treat for you :)
My name is Leigh Anne and I run Ella's Cottage. Some of y'all might be wondering what I get up to here in my little corner of the universe. Others might just want me to get on with the giveaway already (you folks can keep on scrolling!).
Ella's Cottage was born when I was pregnant with my second daughter, about 4 years ago. I was in love with all of the wonderful handmade baby items I saw around the internet and thought I could probably have a go at them myself. Never mind that I hadn't sewn more than a straight line ever LOL. From the first time sitting at my machine I was hooked!
Eventually folks started asking me to make things for them and I decided to have a go at selling my products. Amazingly, people kept buying them :) The more I made, the more I read about. The more I read, the more I started seeing amazing modern quilts. I was pretty anti quilts until this point. But the modern prints and bright colors pulled me in and I was a goner.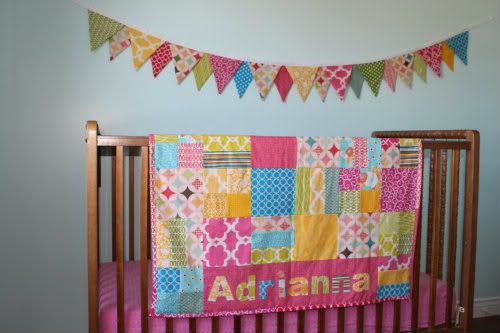 My first custom order



These days, I make a combination of small children's items, pillows and quilts. But mostly quilts!! I blog about quilting, fitness, home improvement projects and pretty much anything I am inspired to. But mostly quilts!! Along the way I also started carrying a small selection of Moda quilting cottons in my Etsy shop.



And now to the reason you scrolled to the bottom :) Giveaway time!! Leave a comment letting me know what fabric line you are currently lusting over and you will be entered to win this fat quarter bundle of Happy Go Lucky by Bonnie and Camille. International folks are welcome to enter but I will only cover half of the shipping costs outside of North America. Still a great deal :) If you are a follower of my blog (new or old) leave a comment for a second entry. And everyone can get 20% off fabric through the New Year by entering HOLIDAY20 at checkout.
Winner will be chosen Sunday December 15th at 9pm AST. Be sure to head over to the Sew Mama Sew blog and check out the other giveaways!